States of Jersey names St Helier as a priority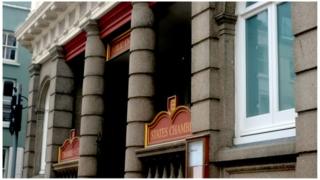 St Helier has been identified as one of four priorities for the States of Jersey over the next three years.
The States aims to raise the profile of the island's capital and support its residents by making it a strategic priority alongside the economy, education and health.
This is the first time a geographical location on the island has been chosen.
Chief Minister, Senator Ian Gorst, said plan would result in "cutting and re-prioritising existing expenditure".
He said: "It is not going to be easy", but it was necessary.
"We are all going to have to be vigilant but we are all going to have to work together," he said.
---
Analysis
Chris Rayner, BBC Radio Jersey political reporter
As we know the Council of Ministers wants St Helier to be the powerhouse of the economic recovery.
It also wants it to be a great place to live, work and visit. But lots of homes will be built there. Probably around 2,000, and there's concern about what that'll do to the open space.
It it clear the government is serious about paying rates on its buildings in town, it's serious about giving St Helier more power to grant licenses for small events cutting red tape, and it's serious about its master plan for St Helier.
---
One proposal, from St Helier constable Simon Crowcroft, would have seen the States look to buy land next to the Millennium town park that has approval for a housing development.
That was amended by the council of ministers so they could to study the idea.
Constable Crowcroft said: "I am confident the council of ministers will examine the costs and benefits... and I am confident we will see a bigger town park in the future.
"This is the first time the council of ministers have prioritised St Helier. They identified Fort Regent, they identified the International Finance Centre, but not the town park.
"That is something that matters to residents of St Helier."
More than 30,000 of the island's 100,000 residents live in St Helier.