Jersey referendum call for planned finance centre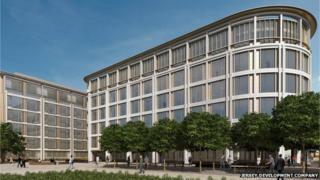 A referendum could be held over the future of a proposed Jersey finance centre, if plans are approved.
Deputy Montfort Tadier, of Reform Jersey, has called on the States to vote for his plan that no development should start without a public vote.
The development, by government owned Jersey Development Company, will see six office blocks and an underground car park built on the St Helier site.
Lee Henry from the company said they were talking to prospective tenants.
Deputy Tadier said: "I believe it is important that any significant developments, particularly when they involve risk, need to have public buy-in.
"I do not believe that what is being proposed for the office development at the so-called business quarter has that."
But, Mr Henry said calls for a review could be viewed negatively by prospective tenants, with whom they shortly hope to enter pre-let agreements.
"When those pre-let agreements are signed works will need to start immediately," he said.
Economic Development Minister Senator Lyndon Farnham said it was time for the developers to get on with it.
He said: "The States has already agreed what needs to be done and given the Jersey Development Company a mandate to continue.
"These continuous reviews are slowing things up and potentially costing the States a lot of time and money."
The first two buildings on the site are due to be finished by the end of 2016. The third building was given planning permission at the end of April.
The original masterplan, including the six buildings on the site, was approved by the States seven years ago.
It was originally due to be built by a private developer. But, when that fell through the States handed the project to the Jersey Development Company.