Nepal-born Jersey teenager raises thousands for earthquake appeal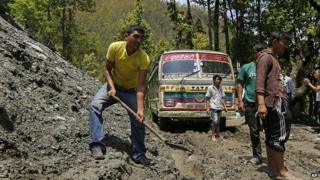 A teenage girl who moved to Jersey from Nepal eight months ago has raised thousands of pounds to help earthquake survivors in her home country.
Atuleisha Thapa, 17, studies at Jersey College for Girls, where she organised a non-uniform day raising £4,000.
Although her immediate family are safe she said seeing pictures of the destroyed cities and villages was hard.
Jersey's Overseas Aid agency allocated £90,000 with more coming from a fund for people to donate to within Jersey.
The 7.8 magnitude earthquake struck Nepal on Saturday 25 April, killing at least 6,700 people.
Atuleisha, with other girls from the fee-paying Jersey College for Girls, organised a non-uniform day and cake sale.
She said "It was awful waiting to hear from friends and family after the earthquake hit.
"Obviously, I'm not as scared and frightened as the people who are in Nepal at the moment.
"It is very frightening, I wait every day, I try to speak to my family and friends. I'm waiting to hear that none of my family and friends have died yet."