Jersey royal baby tribute 'stereotyping', says politician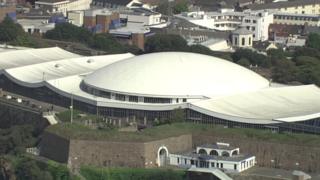 A plan by the Jersey government to light a leisure centre pink in tribute to the new royal baby has been criticised as "gender stereotyping".
The government arranged for Fort Regent, overlooking St Helier to be lit up pink for a girl or blue for a boy.
Backbench politician, Deputy Louise Doublet, said it should be a more neutral colour.
Senator Philip Ozouf, from the council of ministers, said it would investigate using other colours.
The government announced the plan ahead of the birth of the Duke and Duchess of Cambridge's as-yet-unnamed baby girl, who is fourth in line to the throne and was "safely delivered" at 08:34 BST.
The Duke of Cambridge was present for the birth of the baby, who weighs 8lb 3oz (3.7kg).
On plans to light Fort Regent in tribute, Deputy Doublet said on Twitter: "Lovely gesture but shame we are already gender stereotyping a newborn!! I suggest regal purple.
"Let's highlight this in a positive way. I hope she isn't constrained to 'princess' stereotypes and is allowed to be whoever she is meant to be regardless of gender."
Senator Ozouf, the island's assistant chief minister, responsible for finance, said: "Let's celebrate pink, blue or purple - a tradition Jersey started when Prince George was born.
"There is now no discrimination between male and female succession, which is fantastic for equality. We'll see if we can organise blue, then purple for the lights."
The last time Fort Regent was turned pink was in September to raise awareness for the Coppafeel breast cancer charity.