Jersey Bailiff's Liberation Day speech 'inappropriate'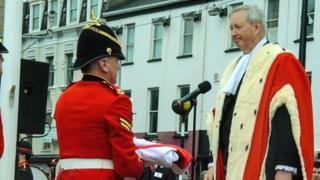 A speech by Jersey's Bailiff on Liberation Day has been described as "inappropriate and distasteful" by some survivors.
William Bailhache spoke of what he called the "harsher side" of the Nazi occupation during the World War Two.
Quoting from a diary of the time, he described accounts of well-known residents "fleeing like rats" in 1940.
Jean McLaughlin, from Jersey Evacuees' Association, said the comments were hurtful.
She said: "I felt very sick, very hurt and I felt for our family, for my mum and dad who were not here.
"Everybody left this island for different reasons. My father took me away for my safety. They were courageous to leave their families and possessions."
In his first Liberation Day speech since becoming Bailiff, Mr Bailhache talked about using the islands national day to rekindle enthusiasm to make the island inclusive, optimistic and prosperous.
Quoting from a diarist at the time, he said: "Hundreds then rushed to register for evacuation which lasted Thursday, Friday and Saturday.
"As I had a pass, I saw practically the whole of the evacuation and was really surprised to see some of the best known residents fleeing like rats".
Constable Len Norman, who spoke on the day as the most senior member of the States Assembly, said he was right to say what he did.
He said: "You can't hide from the dark reality of history. What he was doing was quoting from someone who was here at the time and that was that person's view at the time.
"The evacuees who left Jersey just before the Nazis arrived, my father was one of them, did great things for Jersey in the war effort."
Mr Bailhache has not responded to requests for a comment on the criticism.