Channel Islands ferries to undergo emissions upgrade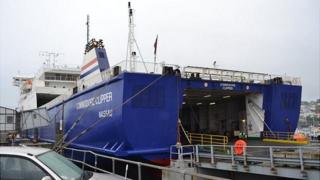 Two Condor ferries are to have an upgrade to make them more environmentally friendly.
Condor said the Commodore Clipper and Commodore Goodwill will be out of action while pollution-reducing marine scrubbers are fitted to the exhausts.
The firm said passenger capacity would rise 14% while work continues thanks to increased services by ferry Liberation.
Passenger services between Portsmouth and the Channel Islands will be affected from September to November.
The Clipper carries freight and passengers and the Goodwill is a freight vessel so Condor has chartered the MV Arrow to support freight services.
The firm said Clipper was not its main passenger vessel and numbers using the services fall during the autumn period.
The Clipper will be in dry dock from 6 September to 9 October. The Goodwill will be out of action from 10 October to 11 November.
Captain Fran Collins said: "We are extremely mindful of the importance of these lifeline freight and passenger services to the Channel Islands and have robust contingency plans in place to deal with any technical issues that may arise during this period.
"This work is scheduled almost six months away and we will continue to monitor booking levels, planned services as usual."