Jersey police say they have no facilities for drug addicts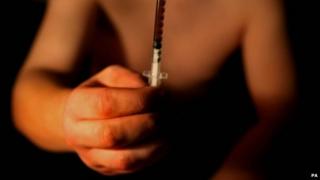 Jersey police say they do not have the right facilities to deal with people who are high on drugs.
The first police annual report produced by the new Jersey Police Authority found drug addicts were put in custody cells, which are not suitable.
The report, which was broadly positive of the force, says putting them in custody cells can be a risk.
It says people high on drugs should be a matter for health professionals and not the police.
A spokesman for the health department said: "Dealing with such people is a challenging task for anyone, whether he or she is a police officer, a doctor or nurse, or a paramedic."
The report points out that in the UK the health service has to provide specialist examiners to support the police.
'Sharp increase'
The report says: "Police custody cells are not a suitable environment for detaining people with a mental health condition, or those who are high on drugs (including new psychoactive substances)."
The health spokesman said: "Arrest referral workers from the States of Jersey Alcohol and Drug Service are available every day, including weekends, to visit people who are in custody and are deemed to have a drug or alcohol problem."
He went on to say people who are seriously unwell as a result of drug-taking or alcohol consumption are seen in the Emergency Department at the General Hospital.
The report found there was a "sharp increase in the levels of drug-related crime" in 2014 over the previous year.
The number of arrests related to possession of controlled substances increased from 138 in 2013 to 205 in 2014.