Jersey's disadvantaged pupils to be helped with extra funding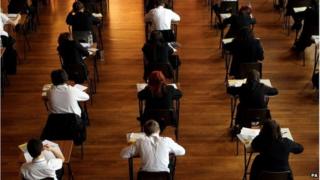 Disadvantaged pupils in Jersey are to be helped to achieve more, through additional funds being made available.
The Education Department has published its new business plan that aims to give greater autonomy over funding to individual schools.
Education minister Deputy Rod Bryans, said the so-called pupil premium should help narrow the gap between state and fee-paying schools.
It will be coupled with closer monitoring of pupil achievement.
A higher percentage of pupils at fee paying schools achieve five A* to C GCSE grades than those in state schools.
'Significant improvements'
Jersey has four state-run secondary schools as well as two single sex fee-paying grammar schools (Jersey College for Girls and Victoria College), two Catholic private schools (Beaulieu and De La Salle) and a post-14 selective grammar school (Hautlieu).
The pupil premium was introduced in the UK to help schools with disadvantaged pupils achieve more.
John McGuinness, head teacher of the state funded Grainville School in St Saviour, praised the work with schools in producing the business plan.
He said: "A pupil premium is one of the main reasons why there has been significant improvements in standards in England, especially in the last five years.
"It is about £900 per pupil. If you look across an island community there is a clear link between social deprivation and literacy levels.
"The pupil premium coming into the educational system in Jersey is going to significantly improve the flexibility head teachers have to put targeted support in."