Jersey's Plemont headland beauty spot opens to the public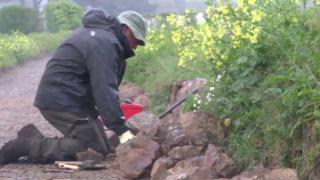 Areas of Plemont headland which were previously covered by a holiday camp have been opened to the public for the first time.
The States of Jersey agreed to give £3.5m to the National Trust to buy the land and return it to nature after a public campaign.
The fate of the old Pontins camp hung in the balance for years with dozens of planning applications for homes.
The land was purchased early in 2014 and demolition started early 2015.
The rubble has all been cleared away, leaving a barren patch of scrubland, which Jon Parkes from the trust said would start to turn green in the coming months.
"The longer term goal is to get this site to be a maritime grassland and heathland and that could take many years to establish," he said.
Bob Tompkins, a volunteer gardener working on the project, said it was a diverse landscape.
He said: "Dry stone walls are very important for the creatures we have here including green lizards, a range of small mammals, toads, newts. It is a dynamic area."