Jersey States alcohol deal ban proposal criticised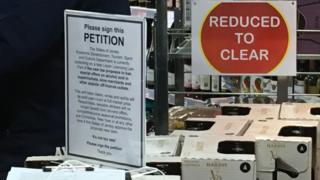 A petition has been set up by two supermarket chains against government plans to ban alcohol price promotions.
Jersey has one of highest rates of alcohol consumption in Europe, and the States wants to overhaul licensing.
An alcohol profile report in 2015 found on average islanders consume about 12 litres of pure alcohol per capita.
The CI Co-Op and Sandpiper CI, which runs Marks and Spencer and Chequers say the proposals would not lower consumption.
Constable Steve Pallet, who is running a review of Jersey's alcohol law said the proposal was one of a number being considered as part of a review into the island's 40-year old alcohol law.
The head of Sandpiper CI, Tony O'Neill said it was nanny state politics at its worst.
He said: "I don't think there is any doubt the majority are being penalised because it is proposing to remove all promotions from all retail shops on alcohol.
"That has never happened before and it does penalise the average man on the street. It is nanny politics at its worst."
Mr Pallett said he would not pre-empt its findings as it was too early to make any decisions.
He said: "It is not just the various departments saying we need a new law. The industry itself is saying it is unhappy with what is now a 40-year old law.
"There always were going to be areas within the law that the industry said did not suit them."
The latest alcohol profile found that between 2012 and 2014 there were 45 alcohol-related deaths, which was 2% of all deaths in Jersey.
In 2014, there were about 500 people admitted to hospital for an alcohol related condition and alcohol use was involved in one in five of all crimes committed in Jersey.
---
Alcohol prices
Average alcohol prices in Jersey and the UK
58p
Difference in the price of a pint of bitter between Jersey and the UK in 2015
£3.54 Pint of bitter in Jersey (2015)

£2.94 Pint of bitter in UK (2015)

£1.82 Pint of bitter in Jersey (2005)

£2.12 Pint of bitter in UK (2005)
BBC
Alcohol prices in 2015
JERSEY
UK
Bitter per pint
£3.54
£2.96
Lager per pint
£3.91
£3.45
Whisky per 25ml nip
£2.95
£2.60
Alcohol prices in 2005
JERSEY
UK
Bitter per pint
£2.04
£2.12
Lager per pint
£2.45
£2.45
Whisky per 25ml nip
£1.84
£1.74
SOURCE: States of Jersey Statistics Unit