Jersey girls cut off by tide hauled up sea wall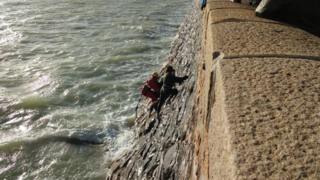 Three teenage girls were hauled up a sea wall to safety after being cut off by the rising tide.
They sheltered on the sea wall at West Park, in Jersey, and were seen by members of the public who raised the alarm shortly after 17:30 BST on Thursday.
One of girls climbed high enough to be rescued by bystanders.
Firefighters used ropes and rescue equipment to haul the other two teenagers up the wall to safety.
A Jersey Coastguard spokesman said it was a reminder of how "easy and dangerous" people could be cut off, especially as the island has some of the largest tides in the world.
He said: "We are currently experiencing large spring tides that will peak at just over 12m (39ft) this Saturday.
"Whenever you are on the coast always keep an eye on the tide and make sure you leave plenty of time to safely reach shore.
"You should have a means of calling for help such as a mobile phone or VHF radio and make sure someone onshore is aware of your plans."
It is the second rescue involving people being cut off by the tide this week, with a woman rescued from rocks at La Corbiere on Monday.