Jersey harbour crane project stalls as 'costs double'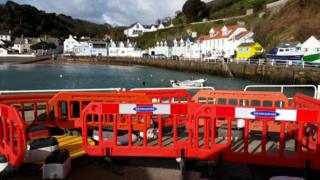 A project to replace cranes in three small harbours in Jersey has stalled.
The replacement of cranes at Rozel, Bonne Nuit and South Pier was approved in 2011 at a cost of £330,000.
The cranes at Rozel and Bonne Nuit were removed, but concerns about what type of crane should be used have delayed the purchase of new units.
Captain Phil Buckley, Jersey's harbour master, said bringing in a different type of crane "significantly increased the cost, [it] basically doubled".
Fisherman Andy Hibbs, who operates from Rozel Harbour, said: "We haven't had a crane now for eight months because they said it was condemned.
"We were promised a crane in the latter part of last year, nothing happened and it was put forward to March and nothing has happened since then."
Captain Buckley admitted: "It probably could have been better handled, but it's quite a complex subject.
"These are significant machines... we've got to make sure that we satisfy our duty to make sure any equipment we're putting in the outlying harbours are safe and easy to operate."
He said they were consulting with boat owners over their needs to make sure the cranes are suitable.
It follows concerns raised about cranes installed two years ago at Victoria Pier and St Aubin, which Captain Buckley said now appeared to be "unfit for purpose".
Captain Buckley said any funding above the £330,000 agreed would need to be approved by the board.
In total, Ports of Jersey has identified 10 cranes that need to be replaced on safety grounds, but it is targeting those in the worst condition.