Jersey abuse victim 'told to pretend she was at doctors'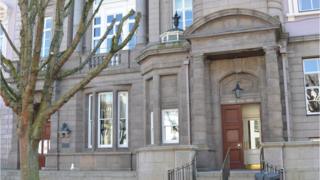 A woman has told the trial of her alleged childhood abuser that he told her to pretend she was at the doctors as he indecently assaulted her.
Nicholas Price Marvin, 51, of Old St John's Road, St Helier, denies 12 charges of sexual abuse.
The charges, including ten of indecent assault, date back to the 1990s, Jersey's Royal Court was told.
The alleged victims were a teenager and a younger girl at the time of the alleged assaults.
Giving evidence, the younger of the two said: "He said to pretend we're at the doctors.
"I just remember feeling disappointed if I couldn't do it, if I wasn't good enough.
"I was disappointed in myself that I wasn't able to do what he wanted me to do."
Asked by crown advocate Simon Thomas why she did not report the abuse as a child, she said: "I don't know where the line between abuse finishes and normal begins.
"It's not clear to me. Looking back as an adult, it's still not clear to me. He used to say it was our secret.
"It didn't think there was anything to complain about. It was normal."
The case continues.