Flybe 'sorry' for baggage charge 'confusion'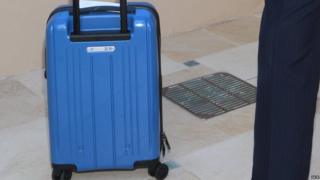 Passengers flying to Jersey from Southampton have been charged an additional £40 after Flybe failed to notify them of baggage rule changes.
The company has decreased the size of cabin bags from 55 x 40 x 23cm to 55 x 35 x 20cm, with effect from 1 April.
However, it admitted some customers might not have been aware of the new regulations because of a technical issue with its mobile app.
It has apologised and said it is working to rectify the issue.
Flybe said the change was in line with the International Air Transport Association cabin baggage initiative, published in June last year.
"There is the possibility that some customers might not have been aware of the implemented change that we have slowly been phasing in since the beginning of the month," a statement said.
"We would like to apologise sincerely for the confusion and we will be taking immediate steps to rectify the situation."
Passenger Samantha Body, who works in the UK, but regularly returns to her family home in Trinity, said she intends to write to Flybe for a refund.
She said the Flybe staff were "lovely and apologetic", but even though the plane was less than half full, there were no exceptions and everyone whose bag did not fit into the new gauge at security had to pay for hold luggage.