Jersey Electricity's profits double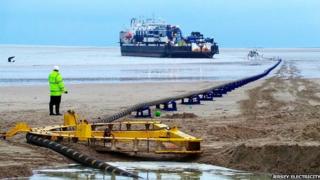 Jersey Electricity's net profits have more than doubled from £5m to £10.8m.
Accounts published by the company show the annual turnover in 2015 was £100.5m.
Chairman Geoffrey Grime said the completion of the £70m Normandie 3 submarine power cable to France had "transformed the business".
In the last financial year the company imported 94% of the island's electricity from Europe.
Mr Grime said profitability, supply reliability and carbon emissions had all showed a "marked improvement" compared to the last three years.
Directors pay has risen as a result. The total amount executive directors received went up in 2015 by 40%.
Chief executive Chris Ambler received a total of £406,654 last year, up from £289,548 in 2014.