Fifth of Jersey taxis to be wheelchair friendly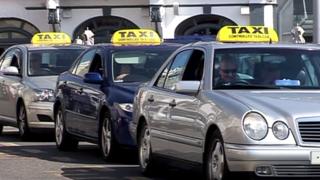 A fifth of Jersey taxis will become wheelchair friendly after the States back-tracked on its plan to make every car in the industry accessible.
In December, taxi drivers went on strike over a series of proposals, including the plan.
Following negotiations between drivers and the States, about 65 taxis will now have to become wheelchair friendly.
The States said the new agreement was "a good compromise" and would also "meet the demand".
Mick Tostevin, President of the Jersey Taxi Drivers Association, said he thought the amount was a "reasonable figure".
He said few people turned up at the taxi rank in need of a wheelchair friendly taxi, so 20% of the 150 rank taxis was "more than adequate".
Transport Minister Deputy Eddie Noel said: "It's a good compromise. It's about meeting the demand, but we'll keep an eye on that to make sure it happens."
In September he announced measures to reform taxi services, which included requiring all taxis to be wheelchair friendly by 2019.
At the time Mr Tostevin said drivers felt "frustrated and cornered".
Following lengthy negotiations, the States decided to reduce the amount of taxis that have to be wheelchair friendly with no deadline set.
Mr Tostevin said the island had about 320-330 taxis and 20% needed to be accessible.