Liberation Day power cut linked to 'scheduled maintenance work'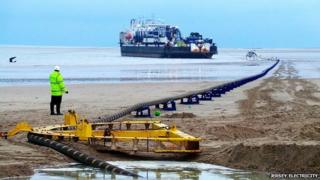 A power cut that hit the Channel Islands on Liberation Day may have been caused by planned maintenance, Jersey Electricity's chief executive has said.
Jersey experienced an island-wide power failure while most of Guernsey was affected.
The cables between Jersey and France are supposed to guarantee the islands' power supply.
Chris Ambler defended the decision by the French energy firm RTE to carry out the work on the islands' national day.
'The right decision'
"We've got to do this maintenance at some point... There's never an ideal time to do this sort of thing."
He told the BBC the Normandie 2 cable was out of service due to planned maintenance leaving the Normandie 3 cable to supply both Jersey and Guernsey.
"The system was stable, but demand was increasing pretty steadily and more strongly than we'd anticipated."
Normandie 3 then "tripped out" to prevent an overload, he said.
Jersey was without power for about 20 minutes, but parts of Guernsey had no electricity for more than an hour. BBC Radio Guernsey was off air for a time.
Mr Ambler said they and their energy partners chose to avoid carrying out work in winter and mid-week.
"I think we made the right decision. It's unfortunate we were caught out with the system... We had a premature trip earlier than we anticipated.
"We need to now review this, to look in detail at what went wrong."
Guernsey Electricity said on Tuesday afternoon it was still not clear what caused the fault or why Guernsey was without power for longer than Jersey.
Both Jersey and Guernsey companies have apologised to customers for the inconvenience the power outage caused on Monday.