Jersey student loan scheme would be 'too expensive'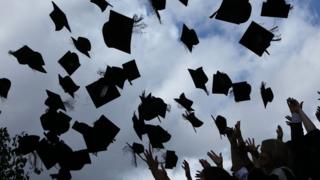 Introducing a full student loan scheme for Jersey students would be too expensive, the island's education minister has said.
A report by the education department, commissioned by the chief minister, found a loan scheme could see the States lend up to £700m.
Deputy Rod Bryans said it was "not possible" to provide funding.
The Jersey student loan support group criticised the report for not presenting a solution.
There is currently no system in Jersey to help higher and middle income families pay for a degree, unlike the UK which offers of up to £9,000 - the current cost of yearly tuition fees.
A spokesman for the support group said: "We really should not be stopping students from access to higher education because of their parents wealth it is out of their control."
Key points from the report
Student loans: Top-level political delegation to open discussions with, if possible, minister for Business, Innovation and Skills in the UK
Parents' saving scheme: Further discussions involving potential commercial providers
Redistribution of current funds: Minor changes possible to improve fairness - assets, second child, local tuition fees and grants to be explored further
Expansion of Campus Jersey: Quality-focussed opportunities to be progressed, particularly in conjunction with the business sector - degrees, higher apprenticeships and JICAS
Universities in Europe: Further detailed work with potential partner universities and ongoing promotion to students
Source: Higher Education Funding Report
Jersey offers a limited student loan of £1,500 but it has to be paid back within five years of graduation.
Mr Bryans said the amount of existing student debt would make a scheme unworkable.
He said: "We have at the moment a £2.5m debt for the £1,500 we already give to students."
The report made five recommendations including lobbying the UK government for Jersey students to be added to the UK scheme.
Higher Education Funding
1,170
Students studying at university from Jersey in 2014-2015
896 Students receiving a funding grant from the States of Jersey

£7.8m Paid in fees by the States of Jersey in 2014-2015

241 Returned to the island after graduation in 2015

£60,000 Is the average cost of a three-year degree for Jersey students
PA