Zero-hour contracts 'have been misused' in Jersey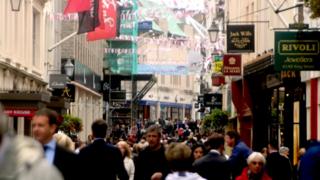 Zero-hour contacts "have been misused", a report by Jersey's Health and Security Scrutiny Panel has found.
The panel, chaired by Deputy Richard Renouf, issued a survey in 2015 to employers and employees.
The survey found 39% of respondents said they were paid less on a zero-hour contract than those doing the same job who were not on a zero-hour contract.
Deputy Geoff Southern, vice-chairman of the panel, said the panel's report was "intended to reduce any such misuse".
The number of jobs in Jersey was at a record high in 2015
Education and health saw the largest rise
50,940 Private sector jobs

8,140 Public sector jobs

5,800 Zero Hour contracts
Getty
The panel received 59 employer responses and 264 employee responses.
Altogether 27% of employee respondents said they were sometimes penalised when turning down hours and 12% said they were always penalised.
Of employer respondents, 51% said working hours were broadly the same each week.
The report said: "If there is a regular pattern of work being carried out and no-one expects the individual to refuse work, the employer should not be using a zero-hour contract but offering a permanent one."
The panel has suggested legislative changes which include amending the Employment (Jersey) Law 2003:
To introduce a mechanism whereby the Social Security Department can refer a zero-hour contract to the Employment Tribunal to determine whether they are appropriate
To provide that employers should review zero-hour contracts with their employee after six months of continuous employment
To abolish exclusivity clauses
Deputy Geoff Southern added: "Throughout our investigation employers and the Minister have stressed that zero-hour contracts must be used appropriately.
"We have found that, in some instances, they have been misused."
The Jersey Labour Market Report (December 2015) published by the States of Jersey Statistics Unit showed that 6,300 jobs out of a total of 57,720 Jersey jobs were zero-hour contracts. That accounts for 10.9% of all jobs in the island - a rise on the previous year (10.4% in December 2014).