Jersey eye doctor threatens States with legal action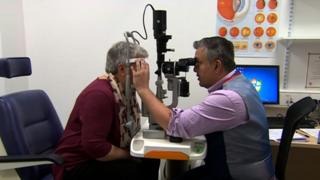 An eye doctor whose contract was "unlawfully terminated" has said he will take legal action against the government unless he is compensated.
Amar Alwitry was due to start work at Jersey's General Hospital in December 2012 but was dismissed a week before by the States Employment Board (SEB).
The dismissal was found to be "contrary to law" by a government complaints panel in July.
The Health and Social Services Department would not comment further.
The SEB has previously said it was disappointed with "a number of aspects" of the findings of the States Complaints Board (SCB) report.
A spokeswoman for the British Medical Association (BMA) said Mr Alwitry had the organisation's "full support" following his "unacceptable" treatment.
She praised the SCB report for bringing to light the "failings of the management at the hospital", adding that further legal action looked "inevitable" unless the SEB and the minister for health and social services acted on the report's recommendations.
'Belligerent disregard'
In a statement from his lawyers, Mr Alwitry threatened legal action if the SEB, the minister for health and social services and the General Hospital failed to compensate him and his family "for the devastating effects" of the termination of his contract.
The consultant and glaucoma specialist also demanded the implementation of various recommendations made by the SCB.
These include that the hospital "unreservedly acknowledge the fundamental mistakes made" and show how it will ensure that patient safety concerns can be raised by staff "without fear of recrimination".
Mr Alwitry has said he lost his job after he suggested it would be unsafe for him to operate on patients on Friday unless emergency care would be provided by his colleagues over the weekend.
He said the SEB and the minister had shown "belligerent disregard" for patient safety and "wasted thousands of pounds of taxpayer money" trying to defend an "indefensible position".