Jersey By-election: Eleven stand for one vacant seat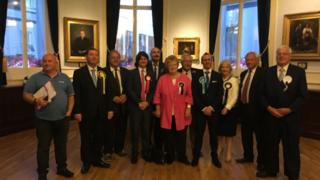 Candidates for the upcoming Senatorial By-Election on 7 September have declared themselves.
There are 11 candidates for the one vacant seat with all but one standing as an independent.
The election was called after former Senator Dr Zoe Cameron resigned on 12 July over a "culture of denial" in the States of Jersey.
The successful candidate will hold an island wide mandate, representing all of Jersey's 100,000 residents.
Parish halls reported a "flurry of activity" as people registered to vote before the deadline on Monday with more than 62,000 signing up.
Candidates for Senator
Alvin Aaron (Independent)
Nick Le Cornu (Independent)
Mike Dun (Independent)
Guy de Faye (Independent)
Sarah Ferguson (Independent)
Christian May (Independent)
Sam Mezec (Reform Jersey)
Stevie Ocean (Independent)
Mary O'Keeffe-Burgher (Independent)
Hugh Raymond (Independent)
John Young (Independent)
The States Greffe will have a manifesto from each candidate on their website which will also be sent to every home in the island.
People registering to vote for the first time have until Wednesday lunchtime to add their names to the register.
Candidates are able to spend up to roughly £9,800, or £2,800 plus 11p per registered voter, on their campaign.
The election is on Wednesday 7 September.