Jersey care home to shut after fire risk worries raised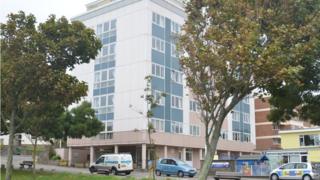 Fire safety worries over cladding have forced a residential home in Jersey to decide to shut.
The decision was made following safety investigations at St Helier House Residential Home after the Grenfell Tower fire on 14 June.
Concerns were also raised over the lack of sprinkler systems or dry riser systems in the six floor complex.
Authorities said the risk to the 44 residents has been "managed" and they will not need to move until 2019.
For more on the residential home closure and other stories from across the Channel Islands.
The Constable of St Helier, Simon Crowcroft confirmed the home would not be closing immediately, and work was going on with Jersey Fire and Rescue to ensure the safety of the residents in the 56-bed building, which was built in 1963.
Paul Brown, deputy chief fire officer, said the service would not be renewing the safety certificate of the building, meaning residents will not be able to live there from March 2019.
The new measures include posting a trained fire warden on duty through the night at the home, and moving "residents with the greatest mobility issues" to accommodation on lower floors.
The constable said it was hoped some residents will be re-homed in the parish's other residential facility, St Ewolds, and staff will be consulted over the future following the closure.
Due to the building's age, Mr Crowcroft said it had become "difficult to run", through a lack of en suite bathrooms, narrow corridors and lifts which "will soon need to be replaced".
No new residents will be taken in to the home, he added.