I was at death's door, says Cuba's Fidel Castro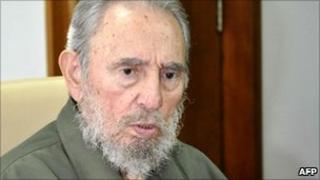 Fidel Castro was "at death's door" during a long illness which forced him to step down as Cuba's leader, he has told a Mexican newspaper.
The 84-year-old told La Jornada how he "couldn't aspire to live any longer" during his illness.
"I asked myself several times if [the doctors] would let me live under these conditions or whether they would allow me to die," he said.
Mr Castro fell ill in 2006 and handed power to his brother Raul in 2008.
He underwent several operations for an intestinal illness.
The precise nature of the illness remains a state secret, though it was believed to be diverticulitis, an inflammation of the stomach.
"I didn't know how long this torment would continue. The only thing I could hope for was that the world would stop," he told La Jornada.
"But I recovered... Today, I managed to take 600 steps, without a cane or any help."
Mr Castro led Cuba for almost 50 years after toppling the government in a revolution.
The Communists remain in power and Fidel Castro remains head of the Communist Party, although his brother is president of the country, and the two have been at pains to point out that there is no division at the top.