Chile mine owners ask for forgiveness after collapse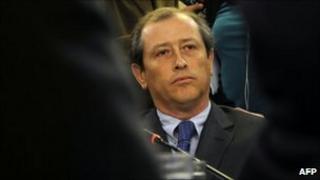 The owners of a mine in Chile which collapsed, trapping 33 workers 700m (2,300ft) below ground, have apologised to the men and their families.
Mining boss Alejandro Bohn told a parliamentary committee investigating the collapse that he "must ask forgiveness" for the "pain" caused.
Drilling work to rescue the miners has begun, but officials believe it could take three to four months.
A team of experts from the US space agency Nasa is due at the mine later.
The Nasa team, which includes a doctor, nutritionist, an engineer and a psychologist, arrived in Santiago after a request by the Chilean authorities.
They have advised Chilean officials to be honest with the miners and not to give them "false hopes".
The miners have been told it could take a long time to get them out of the San Jose mine, but have not been given dates.
'Unwanted situation'
Mr Bohn told parliamentarians that it was a "terrible situation" that he hoped would soon come to a happy end.
"The pain caused by this unwanted and unforeseen situation means we must ask forgiveness for the anguish being felt at this time," he said.
Last Thursday, a Chilean judge ordered the freezing of $1.8m (£1.2m) in assets owned by Mr Bohn's San Esteban mining firm, to cater for compensation claims by the miners' familes.
Relatives of miners have fiercely criticised San Esteban, accusing the company of ignoring safety guidelines. The owners deny the accusations.
Work on the relief shaft began on Monday in an attempt to free the men, who remain trapped in a refuge chamber of the mine, where they managed to take shelter after a rock collapse on 5 August.
Chilean President Sebastian Pinera says his government "has done and will continue to do everything humanly possible to rescue them alive."