Falklands oil found by Desire Petroleum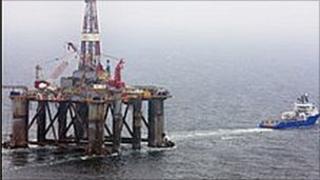 A British exploration company says it has discovered oil off the Falkland Islands in the South Atlantic - the second such find this year.
Desire Petroleum said it would carry out further tests to assess the significance of the discovery.
It said it believed further oil fields would be found in the area.
Oil exploration around the Falklands has angered Argentina, which challenges British sovereignty over the islands it calls the Malvinas.
Desire Petroleum's shares went up by 24% on the news.
Long-running dispute
Chairman of Desire Stephen Phipps called the find in the North Falkland Basin "highly encouraging."
Another British company, Rockhopper, found oil in the same area in May.
It is not clear if either find will prove commercially viable.
The resumption of oil exploration around the Falklands earlier this year revived the long-running dispute between Britain and Argentina over the islands.
In February Argentina announced new controls on shipping to the Falklands.
It has also raised the issue at the United Nations and rallied support for its sovereignty claim among Latin American countries.
Britain says it has no doubt about its sovereignty over the islands, where most of the population is of British descent.
The Argentine military invaded the Falklands in 1982 but was defeated by Britain in the war which followed.