Mexico arrests Zetas drugs cartel suspect Flavio Mendez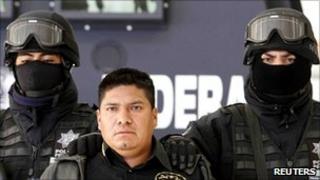 Mexican police have arrested a suspected leader and founding member of the notorious Zetas drugs gang.
Flavio Mendez Santiago, 35, was detained in the southern state of Oaxaca.
A former soldier, he is accused of controlling the traffic of drugs and illegal migrants in south-eastern Mexico.
The Mexican government hailed his arrest as another sign of progress in its fight against drugs gangs.
Mr Mendez - known as as "El Amarillo" or "The Yellow One" - was arrested on Monday night outside Oaxaca City along with his alleged bodyguard, federal police said.
A reward of $1.2m (£750,000) had been offered for information leading to his arrest.
He was on a police list of the 37 most dangerous criminals in Mexico.
Interior Minister Francisco Blake Mora said that the government had now captured or killed 20 of the 37 suspects on the list.
'Death squad'
Flavio Mendez is alleged to have been recruited by the Gulf Cartel in 1993 and to have served as a bodyguard for the cartel leader, Osiel Cardenas Guillen, before splitting to found the rival Zetas organisation.
Founded by former elite soldiers, the Zetas are one of Mexico's most feared drug cartels.
The gang gained a reputation for extreme violence as it fought to take over territory controlled by other cartels, killing hundreds of rivals and sometimes beheading their victims.
As well as smuggling South American cocaine and other drugs north to the US, the Zetas have specialised in human trafficking.
They have made huge profits smuggling migrants from South and Central America into the US.
In August 2010, the Zetas are thought to have been responsible for the massacre of 72 migrants in the northern state of Tamaulipas.
The Mexican defence ministry has described the gang as "the most formidable death squad to have worked for organised crime in Mexican history".
Monterrey killings
Meanwhile in northern Mexico, police have found five mutilated bodies in the town of Montemorelos, outside the city of Monterrey in Nuevo Leon state.
The five dead men - with their arms and legs chopped off - were dumped by gunmen just before dawn in the town's main square.
It is the latest sign of worsening violence in and around Monterrey, which is Mexico's wealthiest city, with an income per head that is double the national average.
More than 20 people have been killed in and around Monterrey in just 24 hours.
Police have blamed the killings on a conflict between rival drugs cartels.
They say that three other gangs have joined forces to try to rid the region of the Zetas.