Cuban activist Guillermo Farinas held for several hours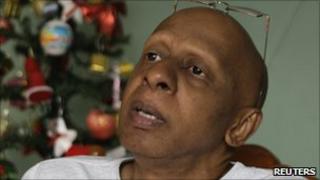 High-profile Cuban dissident Guillermo Farinas has been freed without charge after being held by police for several hours in the city of Santa Clara.
Mr Farinas was arrested along with other activists as they tried to stop the eviction of a family from a property in the city.
He gained international attention last year when he came close to death after staging a 134-day hunger strike.
The EU awarded him its Sakharov Prize for Freedom of Thought.
Mr Farinas and at least 17 other people were arrested as they tried to prevent the eviction of a woman and her two children from a disused property in Santa Clara, the head of the Cuban Human Rights Commission, Elizardo Sanchez, told BBC Mundo.
The demonstrators were accused of causing a "public scandal".
Mr Farinas was represented by an empty chair in December at a ceremony to award him the Sakharov Prize, after he was not allowed to leave Cuba to collect the award.
Earlier in 2010, he came close to death during his hunger strike in protest at the death of fellow dissident Orlando Zapata.
He ended the protest in July, when Cuban President Raul Castro authorised the release of 52 of the island's most prominent prisoners of conscience.
Mr Farinas has spent 11-and-a-half years in prison for a variety of offences and has staged more than 20 hunger strikes.