Kidnapped Colombian oil workers freed as army moves in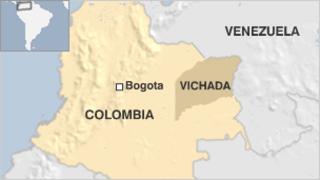 All but one of 23 Colombian oil workers kidnapped a day earlier in a remote jungle region are free, officials say.
The employees, subcontracted by Canadian oil firm Talisman, were snatched by suspected Farc rebels, who have a strong presence in the area.
Defence Minister Rodrigo Rivera said soldiers moved in after a hostage who had escaped told them where his colleagues had been seized.
Troops were continuing to pursue the kidnappers, Mr Rivera said.
"We can confirm that 22 of the 23 are now freed," Mr Rivera told Caracol Radio.
"Only one remains in their hands in an area we hope to reach soon."
There were no clear details about whether there had been fighting but Mr Rivera said intense military pressure had brought about the releases.
The workers, all Colombian nationals, were based at an oil camp in Vichada Department.
Vichada Governor Juan Carlos Avila told Caracol on Monday that "three men burst into the camp" and forced the workers to go with them into the jungle.
In an statement, Talisman confirmed the kidnap of 22 workers, who it said were employed by a subcontractor, South American Exploration, which was carrying out seismic work.
Most of the workers were from indigenous communities, Talisman said.
Foreign investment
The area where the kidnapping took place has abundant coca crops - the raw material for cocaine - and rebels control the lucrative trade routes into Venezuela.
The BBC's Jeremy McDermott in Colombia says the suspected guerrilla action may have been to obtain a ransom or to deter outside intrusion into their jungle stronghold.
President Juan Manuel Santos is seeking to open up all corners of the country to oil and mining companies and encourage foreign investment.
Mass kidnappings were once common in Colombia but numbers have fallen in recent years.
The Farc is the oldest and largest among Colombia's left-wing rebel groups.