Acapulco gunfight kills two young Mexican children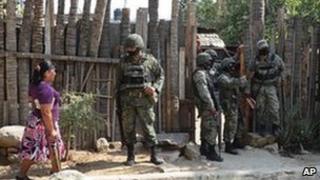 Two boys, aged six and two, have been shot dead in the Mexican city of Acapulco as attackers chased a man through their house, officials said.
Gunmen in a convoy of a six trucks raced through a residential area, pursuing a man who tried to hide in the house, witnesses said.
The assailants opened fire, killing the children and a woman said to be in her 60s, and injuring a 23-year-old woman.
Acapulco is the scene of bitter turf battles between rival drug gangs.
Witnesses said the man tried to get into the family's house in an attempt to escape.
The attackers sprayed the building and another house with bullets. Police found more than 200 shell casings at the scene of the shooting, the Associated Press reported.
It is not clear what happened to the man who was being chased.
The gunmen then set fire to another house but no-one was injured, police said.
In other attacks, state police said a 15-year-old boy was shot dead along with two other men.
Another 15-year-old boy was shot dead outside his school, police said, and a threatening note left beside his body, AP reported.
Acapulco, on Mexico's Pacific coast, has seen a sharp rise in violence related to drug gangs.
Young people are increasingly being caught up in the violence, which has left more than 34,000 people dead since late 2006.