Brazil police hunt 'drug lord' in Rio's Rocinha area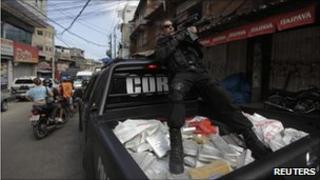 Police in Brazil have moved into a poor neighbourhood of Rio de Janeiro in an attempt to catch the alleged drug lord they say controls the area.
Around 200 police are searching the Rocinha neighbourhood for Antonio Lopes, who is also accused of running a money laundering scheme.
Officers say they found almost three tonnes of marihuana, a garage full of stolen cars and a pirate DVD factory.
Eleven people have been arrested, but so far Antonio Lopes remains at large.
Police entered Rocinha, the country's largest favela, or shantytown, at about 0600 local time (0900 GMT), backed by helicopters.
Mr Lopes, 34, is considered the number one enemy by local police trying to regain control of the area ahead of the 2014 Football World Cup and the 2016 Olympics held in Rio.
Officers said they had 30 arrest warrants for Mr Lopes, also known as Nem, and his associates.
His gang is accused of running a sophisticated money-laundering scheme, which allegedly used six companies to obscure the origins of proceeds from the drugs trade.
Police found thousands of pirated DVDs and CDs, fake shoes, and stolen fridges and other kitchen appliances.
They said some of the drugs and stolen goods probably had been taken to Rocinha from Sao Carlos, another area of the city which police raided in February.