Honduras police kill six in drug gang clash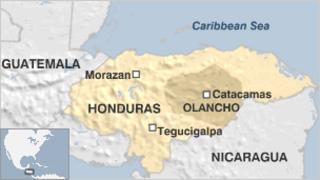 Honduran authorities say six suspected drug traffickers were shot dead in a gun battle with police.
The clash, in the city of Catacamas in Olancho province, broke out when police confronted the men, officials said.
Authorities said seven people were also arrested, accused of working for drug gangs who operate in the area.
In another incident, gunmen shot journalist Francisco Medina near his home. He was the 11th Honduran reporter to be killed in the past 18 months.
Initial reports from Catacamas, 100km (62 miles) east of the capital, Tegucigalpa, said shooting broke out on Tuesday night between rival gangs.
Security Minister Oscar Alvarez later said the men were heading towards a clandestine landing strip when they were confronted by the police.
In the ensuing gunfight six men were shot dead and seven people arrested, he told Honduran media.
Olancho province, where Catacamas is located, has seen a rise in violence in recent months. The vast area near the Nicaraguan border has numerous landing areas for traffickers smuggling cocaine en route to the US.
Mexican drug cartels have become increasingly active in Honduras.
Reporters at risk
Also on Tuesday night, two men on a motorcycle opened fire on TV journalist Francisco Medina in the city of Morazan, 120km (75 miles) north of Tegucigalpa.
He was taken to hospital where he later died.
Mr Medina, 35, who worked for a local TV station, had received death threats after reporting on crime and land disputes, said Santos Galvez from the Honduras College of Journalists.
Mr Medina was the first reporter to be killed in Honduras in 2011. Last year, 10 journalists were killed.
The International Press Institute, in a report this month, said that the Americas were heading towards becoming the most dangerous region in the world for journalists.
Honduras and Mexico, where 12 reporters were killed, accounted for nearly a quarter of the 102 journalists killed worldwide in 2010, the IPI said.