Air France Rio crash: Report not expected before 2012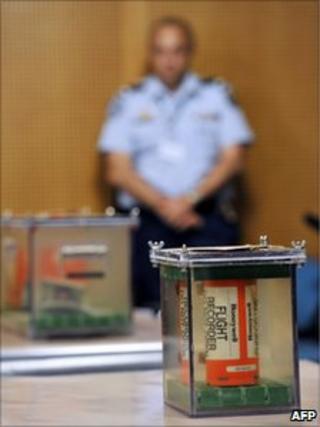 Investigators have said they expect their report into the cause of the 2009 Air France disaster over the Atlantic to be ready no sooner than early 2012.
Speaking in Paris, they said it could take months to interpret data from the flight recorders, which were finally fished from the sea last month.
The boxes, preserved in demineralised water, were displayed before being taken away for examination.
Some 50 bodies remain at the crash site, the investigators said.
Flight AF 447 went down on 1 June after running into an intense high-altitude thunderstorm, four hours into a flight from Rio de Janeiro in Brazil to Paris.
Those on board came from more than 30 countries, though most were French, Brazilian or German.
The wreckage of the plane was discovered after a search of 10,000 sq km (3,860 sq miles) of sea floor.
'No guarantee'
Experts from France's BEA air accident investigation agency told reporters and victims' families that any information gleaned from the cockpit voice and flight data recorders would take months to process.
Nor, they added, was there any certainty it would be possible to determine what went wrong.
"We hope to be able to read them, even though this isn't yet guaranteed," said Jean-Paul Troadec, the BEA's director, at the news conference in Le Bourget, the northern suburb of the French capital where the agency is based.
It would, he said, take at least three days to extract copies of the data - one for crash investigators and another for French prosecutors investigating the cause of the disaster - but months or longer to piece together what happened.
The jet's speed sensors, which were initially linked to a possible cause of the crash, have not yet been found.
The remains of two people have been recovered since the wreck was found while those of 50 other victims were recovered shortly after the crash.
The French authorities have a mini-submarine and a recovery vessel at the crash site.