Dominican Republic's capital on alert for cholera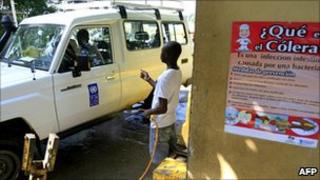 Health authorities in the Dominican Republic have issued an alert in parts of the capital, Santo Domingo, amid suspected cholera cases.
The health ministry has ordered increased monitoring and urged people to take extra care with hygiene.
Some 16 people are in hospital with suspected cholera.
The Dominican Republic has had 14 cholera deaths in recent months, while more than 4,500 have died in neighbouring Haiti since late 2010.
Monitoring has been stepped up in 17 mainly poor neighbourhoods of Santo Domingo.
Like Haiti, the Dominican Republic had not had a confirmed case of cholera in more than a century until the outbreak began in October.
The Dominican Republic tightened its border controls and stepped up health checks to try to stop cholera from spreading from Haiti soon after the first cases were reported.
The first case in the Dominican Republic was detected in November and the first death in January.