Bolivia pastor jailed for Mexico plane hijack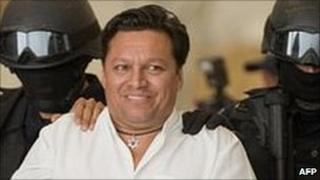 A Bolivian pastor has been jailed for more than seven years in Mexico for hijacking a passenger plane in 2009.
Jose Flores Pereira had told the crew of the Aeromexico plane he was on a mission from God to warn Mexico's president of an impending earthquake.
He said he was carrying a bomb, but it later turned out to be three cans of fruit juice.
The pastor surrendered after commandos stormed the plane on the ground, freeing the 100 people on board.
Mexican authorities said Mr Flores Pereira, a protestant preacher who lived in Mexico, was a former drug addict who had a conviction for armed robbery in his native Bolivia.
He took over the plane from Cancun as it came in to land at Mexico City's international airport on 9 September 2009.
Telling the crew he was carrying a bomb, he ordered the pilot to fly over the city seven times and demanded a meeting with President Felipe Calderon.
At the time, officials said Flores Pereira told them he was acting on "a revelation that Mexico was facing a great danger, and was threatened by an earthquake" in 2012.
The stand-off on the airport runway was broadcast live on Mexican TV.
He was found guilty of attacking a means of transport and illegally retaining people and sentenced to seven years, seven months and 15 days in prison.