Fire in Mexican prison ward kills 14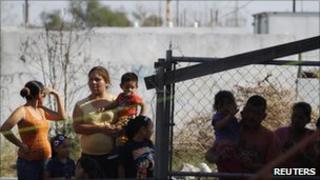 At least 14 inmates at a prison in northern Mexican state of Nuevo Leon have died after a fire, officials say.
The blaze swept through the psychiatric care wing of the prison, in the town of Apodaca, causing a roof to collapse.
Some 35 other inmates were reported to have been injured in the incident, some suffering from smoke inhalation.
An official said the blaze, which began in the early hours of Friday morning, might have been caused by an electrical fault, perhaps on a television set.
"The fire was apparently due to a short circuit," said Jorge Domene, security spokesman for Nuevo Leon.
A total of 57 prisoners were asleep in a dormitory inside the prison when the fire took hold.