Colombia security forces seize massive cocaine haul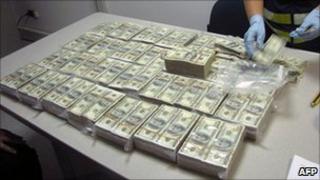 The Colombian security forces say they have seized a massive haul of cocaine in the port city of Cartagena.
Sniffer dogs found more than 12 tonnes of the drug hidden in a shipment of brown sugar destined for Mexico.
It is believed to belong to one of Colombia's most powerful drug gangs, the Rastrojos.
In another development, police at Bogota airport arrested a Mexican national who had arrived with $2.8m (£1.7m) in his hand luggage.
Sniffer dogs checking a ship bound for Veracruz in Mexico alerted their handlers to the presence of drugs in the hull of the vessel.
Laboratory tests revealed a large shipment of brown sugar had been laced with cocaine.
Investigative teams are still testing the sugar, which had been packed into 33,450 units of 500g each, to determine the exact concentration of cocaine.
However, officials say it already amounts to more than 12 tonnes of the drug.
It is one of largest hauls of cocaine seized in Colombia over the past years.
'New enemy'
Police said it came from the Valle del Cauca region, in the south-west of Colombia.
The area is the stronghold of the Rastrojos, a drug gang which exports large amounts of cocaine to Central America and Mexico.
The Colombian government recently declared criminal gangs its new enemy and promised to devote more resources to the fight against them.
In January, Defence Minister Rodrigo Rivera told Colombian news magazine Semana drug gangs were increasingly taking control of drug-trafficking networks from Colombia's left-wing Farc guerrillas.
Also on Monday, police officers detained a Mexican national, Jesus Ochoa, who is from Culiacan in the state of Sinaloa.
Officers said they suspected the cash was payment for drugs shipments to Mexico's Sinaola cartel.
"It's one of the biggest cash seizures in recent years," the customs authorities said in a statement.