Austria arrests Guatemalan sought over killings at home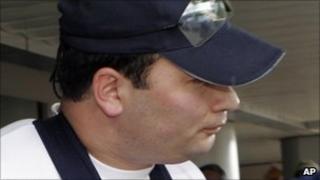 Austrian authorities say they have arrested a former senior Guatemalan police officer, wanted at home in connection with at least 10 killings.
The man, Javier Figueroa, had been living in Austria since 2007, officials said.
Police acting on an extradition request from Guatemala detained Mr Figueroa near the town of Ried im Innkries.
Along with other officials, he is accused of involvement in the deaths of at least 10 prisoners in 2005 and 2006.
The case has been investigated by the UN-backed Commission Against Impunity in Guatemala (CICIG).
Mr Figueroa is a former deputy chief of the criminal division of the Guatemalan national police force.
He is suspected of involvement in the extrajudicial killings of inmates.
Authorities said a judge would question Mr Figueroa and then decide whether to accept Guatemala's request that he be extradited.
A spokesman for the prosecutor's office in Ried im Innkreis in Upper Austria told local media that Mr Figueroa was facing charges that carried a prison term of between 25 and 30 years.