Air France crash salvage mission ends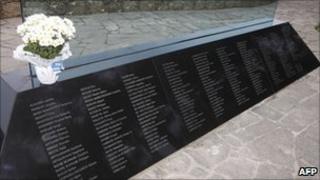 Salvage teams have finished retrieving bodies and wreckage from an Air France plane which crashed into the Atlantic in 2009.
Spokesman for the victims' relatives Philippe Vinogradoff said 104 bodies - all that were deemed recoverable - had been hauled up from a depth of 3,900m (12,800ft).
They will be taken to a mortuary in France for identification.
All 228 passengers on board the Airbus died in the crash.
Around 50 bodies were found floating on the surface in the immediate aftermath of the accident on 1 June 2009.
However, most went down with the plane and were lost until salvage crews located the wreckage in April this year.
Report due
Each body had to be pulled up from the seabed. The first two bodies to be retrieved were still strapped into their seats.
Forensic experts in Toulouse, France, will try to identify the remains.
The salvage team also retrieved the plane's flight data recorders.
Evidence gathered from it so far has shown that the jet fell for three-and-a-half minutes before hitting the ocean.
The French air accident investigations bureau (BEA) found the crew had struggled with contradictory speed readings just before the plane crashed.
Investigators have been working on the theory that the speed probes malfunctioned because of ice at high altitude.
The BEA is due to deliver its report on the causes of the crash next month.