Mexico: Ex-Tijuana mayor Hank Rhon on weapons charges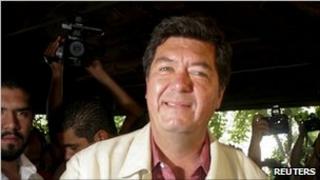 Prosecutors in Mexico have charged former Tijuana mayor Jorge Hank Rhon with illegal weapons possession.
Mr Hank Rhon, a wealthy businessman, was arrested on Saturday after soldiers found 89 weapons at his home in Tijuana, on the US-Mexico border.
Mr Hank Rhon, 55, insists the weapons are not his and says he had never seen them before.
Officials say they will investigate him for possible links to the Tijuana drug cartel, charges which he denies.
Soldiers found 40 rifles and 48 handguns, ammunition and a grenade at Mr Hank Rhon's home.
Deputy Attorney General Patricia Bugarin said 10 of the weapons were licensed, but not to Mr Hank Rhon or any of his bodyguards.
Ms Bugarin said the remaining 78 weapons had not been registered.
Political ambitions
A court in Mexico City charged Mr Hank Rhon with stockpiling weapons.
He has since been transferred to El Hongo prison in Tecate, in the state of Baja California.
A gambling magnate, Mr Hank Rhon served as mayor of Tijuana from 2004 to 2007.
He ran for governor of Baja California in 2007 for the Institutional Revolutionary Party (PRI) but was defeated by the candidate from the National Action Party (PAN).
Reports say he was considering running again in 2013.
Mr Hank Rhon was arrested in 1995 for allegedly smuggling endangered ocelot skins, but was acquitted of the charges.
Ten people, believed to be his security staff, were arrested alongside Mr Hank Rhon, also on weapons charges.
On Tuesday, several thousand supporters of the former mayor protested against his arrest, which they say is politically motivated.
Some wore T-shirts emblazoned with "Todos Somos Hank" or "We are all Hank".