Why Argentina is producing women boxing champions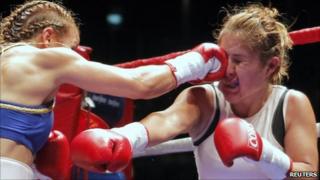 Carolina Duer decided on a career change no-one around her expected.
It was a straight swap - calculators and accounting books for boxing gloves and skipping ropes.
She stopped working in her father's business in Argentina and became a professional boxer.
It was a change of course that worked. She is now the super-flyweight champion of the World Boxing Organisation.
Her own story reflects what is happening in women's boxing in Argentina.
Athletes are attracted to it, not just for the boxing itself, but also because it has become a way of making a living.
And they are chalking up some success. Argentina currently has eight women world champions, more than any other country.
"A person who trains and boxes at a professional level must be able to make a living from it," says Carolina.
"In this sport you have to train all the time, keep your weight in check with a good diet and many other things. If you can't make a living then it is not fair."
Carolina is an unusual case in boxing. She is from an upper-middle-class family, with no previous links to the sport.
Before devoting herself full-time to throwing punches, she ran restaurants with her father, helping to oversee the accounts.
In 2003, when she was 23 years old, Carolina went to watch a training session at a boxing gym.
Her interest was purely the physical exercise.
"At the session, the trainer approached me and asked if I was a boxer. I said 'no', and he replied 'then I'll make you into one', and I decided to start training," she says.
"I have always been a strong-minded person, and he must have seen that in my face. He definitely saw something in me."
Using her experience in business she became her own manager. This meant not only arranging whom she fights and how much she earns, but also negotiating sponsorship.
Boxing is a physical challenge - dodging punches in the ring - but finding a sponsor can also be tough.
Financial muscle
Carolina reckons her experience in business helped her negotiate sponsorship deals with local companies.
"This is difficult to do as a boxer. In the ring you must believe you are the strongest, and a champion. But knocking on doors for money, you will not get anything more often than not. And you need a strong mind to not let this get to you," says Carolina.
Having a world title boosts Carolina's financial muscle.
For other women in boxing it is harder, though not impossible.
"I'm here because I had serious money issues. Boxing has given me the opportunity to survive," says Betina Garino, a former featherweight champion.
Betina won the title last year, but lost it some months later. We meet after her training session, and she seems to be working hard to regain her lost glory.
A champion can earn about $5,000 (£3,100) a fight, says Betina. If there is no belt at stake, the prize money drops to just a fifth of that.
Not a fortune, but enough to keep hopefuls going.
"It's all right. The training regime means you can't really have another job. You have to work in the gym morning and afternoon if you want to be at the top level," she says.
The Tigress
Betina Garino and Carolina Duer train at the same gym in Buenos Aires.
It is a predominantly male environment, but more and more girls are fighting it out in the ring.
"Having so many champions right now has really boosted the numbers of women in the sport," says Carolina's trainer, Alberto Santos Zacarias.
The Argentine Boxing Federation has more than 100 women registered as boxers - an unprecedented figure.
"It all began 15 years ago when Marcela 'The Tigress' Acosta became world champion. That sparked a popularity in women's boxing that has just kept growing," says Alberto.
For the male boxers, he says, having more women as colleagues has stopped being a novelty.
"The women are just another athlete in training. Maybe before some would stare at them or criticise them for being here, but not anymore."
The world of trainers and fighters is tight-knit. People look after each other.
"That is what kept me here," says Carolina. "It is like a new world, and it's easy to get hooked. If you like it, you probably will not want to leave."