Key decider as Argentina's River Plate fight relegation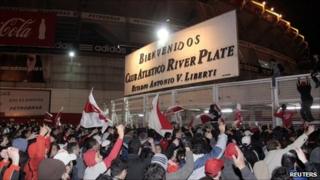 The authorities in the Argentine capital, Buenos Aires, are mounting a huge security operation ahead of a do-or-die football clash for one of the continent's biggest clubs.
River Plate face being relegated for the first time in their history.
To avoid the drop, they must comfortably beat a team from the division below.
Belgrano de Cordoba, their opponents, take a 2-0 lead from the first leg of the play-off into today's game.
More than 2,000 police have been drafted in, in what is believed to be the biggest operation of its kind for an Argentine club game.
They are manning huge security cordons around River's famous stadium, the Monumental - the venue where the 1978 World Cup final was played.
River, the club that's won more domestic titles than any other, now faces a drop to the "B" league, for the first time since it was founded in 1901.
Many commentators have said the club is staring into an "abyss".
River's fans have reacted furiously to recent results, demanding the resignation of the club's president, Daniel Passarella.
It has been a steep fall from grace for Passarella, the man who captained Argentina's World Cup winning squad in 1978.
He was idolised by River's supporters when he played for club.
River's decline on the pitch has been mirrored by financial problems -- nicknamed the "millionaires", the club is currently carrying an estimated $19m (£12m) of debts.
A two-goal victory for River will be enough to ensure their survival, as the rules favour the club from the first division in the event of a tie on aggregate.