Texas warns US tourists against travel to Nuevo Laredo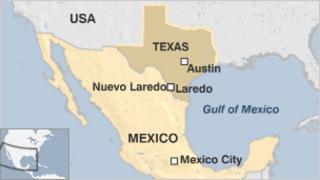 The authorities in Texas have warned United States citizens not to travel to a Mexican border city over the 4 July holiday weekend because of the threat posed by a major drugs cartel.
The Texas Department of Public Safety said in a statement that it had "credible intelligence" that the Zetas cartel was specifically planning to target US citizens in Nuevo Laredo.
The threats, it said, ranged from robberies to extortion and car-theft.
"Multiple sources" had tipped it off.
"We urge US citizens to avoid travel to Nuevo Laredo this weekend if it can be avoided," said the department's director, Steven McCraw.
The department also said the sheriff's office from Webb County, on the other side of the border from Nuevo Laredo, had received similar intelligence.
It did not provide any information as to why it believed the Zetas might specifically target US citizens.
But correspondents say many Americans living near the border use holiday weekends such as this one - which celebrates US Independence Day - to cross into Mexico, as restaurants and services there are less expensive.
'Death squad'
The Zetas were originally a group of Mexican army special forces deserters who worked as hitmen for the Gulf cartel.
But they split from their former allies and have since become bitter rivals fighting for control of the drug smuggling routes to the United States.
The Mexican defence ministry has described the Zetas as "the most formidable death squad to have worked for organised crime in Mexican history".
It is not the first time that the Texas Department of Public Safety has issued warnings about travelling to Mexico.
In March, it advised US students not to travel there during their Spring break, because of drug-related violence.
The Mexican tourist board responded by saying that Mexican tourist destinations were "very safe".
"Last year more than 22 million foreigners visited Mexico, including more than 2.5 million travelling by air from the State of Texas alone," it said.
In April this year, the US state department issued a travel advisory recommending that citizens "defer non-essential travel to the state of Tamaulipas", where Nuevo Laredo is located.
But it added that, in Mexico as a whole, "there is no evidence that US tourists have been targeted by criminal elements due to their citizenship".