Colombian navy 'miscalculated size of cocaine haul'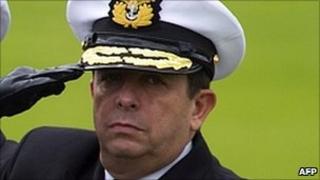 The Colombian navy says it miscalculated the amount of cocaine it found in the port city of Cartagena in May, believed at the time to have been one of the biggest seizures ever.
Head of the navy Alvaro Echandia said testing had revealed only 16kg (35lb) hidden in a shipment of brown sugar.
Originally, the navy had estimated the cocaine seizure at 12 tonnes.
Initial tests had shown a high drug concentration in the sugar, which later tests did not bear out, he said.
But Adm Echandia said the navy was still satisfied with the seizure.
On 23 May, sniffer dogs had alerted their handlers to the presence of the drug in a shipment of 33,000 packs of brown sugar destined for Veracruz, Mexico.
Adm Echandia said first tests on the sugar revealed a cocaine concentration of around 70%, which led the navy to estimate the total amount of the drug shipment at 12 tonnes.
The admiral said 25,106 packs of sugar had been laced with cocaine.
But subsequent tests revealed a much lower drug concentration, bringing the total to only 16.2kg (35lb).