Colombian fraudster David Murcia sentenced in US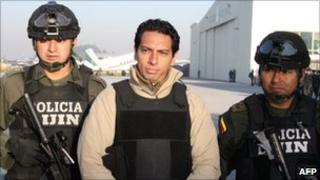 The leader of a pyramid finance scheme in Colombia which defrauded almost 200,000 people out of $2bn has been sentenced to nine years in a US prison.
David Murcia, 30, pleaded guilty to money laundering charges.
He has already been sentenced in his native Colombia to 30 years in jail, which he will serve after finishing the US sentence.
The collapse of the scheme in 2008 led to violent protests by thousands of angry investors in Colombia.
Cross-border criminal
Judge William Pauley said the charges against Murcia were "very grave" and dismissed his request to be sent to Colombia earlier in order to be near his family.
Murcia had pleaded guilty to charges of conspiracy to launder drugs money.
Judge Pauley called the case "tragic", saying that Murcia was a "man with considerable talent who'd manipulated the financial and banking system of the United States" for illegal purposes.
Murcia started his criminal enterprise in his native Colombia, where he led the DMG Group, which promised investors returns of well over 100%.
Tens of thousands of Colombians, many of them poor, invested in the scheme.
In less than five years, Murcia made a fortune and used the proceeds to live a life of luxury in Panama, which included renting the entire floor of a hotel.
He also used the scheme to launder money made from drug trafficking, and invested in property in Miami, Florida, and Panama.
The collapse of the pyramid scheme in November 2008 led to widespread street protests by investors across Colombia. Two people died in the unrest.
Murcia was found guilty of illicit enrichment and money laundering by a court in Bogota in 2009 and sentenced to 30 years in jail.
He was extradited to the US in January 2010 to face further money laundering charges there.
While his sentence in the US could be reduced to five years for good conduct, he will still have to serve the Colombian sentence after his release from prison in the US.