Singer Facundo Cabral's body returned to Argentina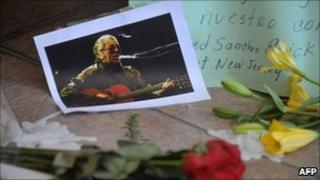 The body of singer Facundo Cabral has been flown back to his native Argentina, four days after he was shot dead in Guatemala.
His widow and nephew were accompanied by Argentine Foreign Minister Hector Timerman to receive his coffin.
Cabral, known throughout Latin America, was heading to the airport in Guatemala City when his vehicle was ambushed.
Guatemalan President Alvaro Colom said organised crime was behind the attack, apparently aimed at Cabral's promoter.
Cabral, 74, was killed on Saturday as he was heading on to Nicaragua for more concerts after performing in Guatemala.
President Colom said that the evidence suggested his concert promoter, Henry Farina, was the target of the attack.
Mr Farina, a Nicaraguan national, was seriously injured and remains in hospital.
Guatemalan prosecutors say Mr Farina has no criminal record and the motive for the shooting remains unclear.
Arrests
President Colom, meanwhile, was in no doubt that organised criminals were responsible.
"It's evident that the attack came from organized crime and that's what we are investigating," Mr Colom told Mexico's MVS Radio.
Cabral became famous in the early 1970s as a protest singer in Argentina.
His coffin will be displayed to the public in the Ateneo theatre in Buenos Aires, where he last played in Argentina, before being cremated on Wednesday.
Two people have been arrested in connection with his murder, a spokesman for the International Commission Against Impunity in Guatemala (CICIG) told the French news agency AFP.
CICIG is a UN-backed body that began work in 2008 to help the Guatemalan state investigate and dismantle violent criminal organisations.