Peru President-elect Humala asks for family discretion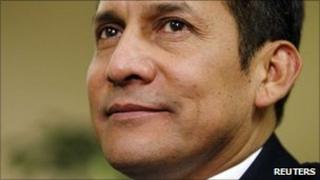 Peru's president-elect has called on his family to stop making comments in the media or trying to take advantage of their relationship with him.
Ollanta Humala, who takes office next week, said the best way to help a president was to let him work.
He has faced particular criticism over a visit to Russia earlier this month by his brother Alexis, who met senior officials in Moscow.
Polls show his popularity plummeted after the trip became public knowledge.
Ollanta Humala has faced his first scandal and he has not even put on the presidential sash.
Alexis Humala presented himself as an official Peruvian representative on a trip to Russia to discuss gas, fishery and arms deals.
The president-elect denied he had sent his brother and suspended him from his political party. Critics are calling for the younger brother's expulsion.
In a television interview, he called on his family not to try to take advantage of his new position of power.
During his successful campaign for the Peruvian presidency, Mr Humala sought to distance himself from the radical left-wing views of his father and other brothers.
They proved a liability in his last presidential bid in 2006, when he was defeated by Alan Garcia.
'Dragging feet'
Mr Humala's father, Isaac, espouses a creed which asserts the superiority of Peruvians of indigenous descent while his brother Antauro is serving a 25-year jail sentence for launching a failed military coup in 2005.
Ollanta Humala, who has recast himself as a moderate proposing a Brazilian-style mix of social reforms with market economic growth, has gone to great lengths to distance himself from his father's views and his brother's criminal record.
But he has been criticised for dragging his feet in appointing key cabinet posts.
However, he has reassured investors in one of the world's fastest growing economies by saying he will keep on Peru's successful central bank president, Julio Velarde.
But unless he is able to control his family's actions, Mr Humala may find any chance of a political honeymoon will have ended before it has even begun.