US contractor Alan Gross appeals for release in Cuba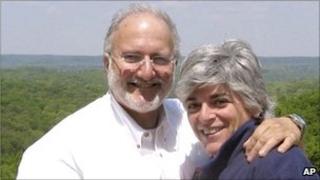 US contractor Alan Gross, imprisoned in Cuba for illegally distributing communications equipment, has appealed to the island's Supreme Court.
He was sentenced to 15 years in March after he was accused of setting up illegal internet connections in Cuba.
Gross, 62, says he was only trying to help Cuba's small Jewish community.
He has asked for his sentence to be dismissed. Cuba's official news agency said the court would "issue a final sentence" in the coming days.
Gross appeared in court with an attorney appointed by the Cuban authorities. His American lawyer wasn't present. Foreign journalists were not allowed in court.
The brief appeal hearing lasting less than two hours.
Secretive programme
Gross was arrested in December 2009. He was in Cuba working as a contractor for the US Agency for International Development (USAID) on a secretive programme aimed at promoting democracy in Cuba.
He was found guilty and sentenced in March for crimes against the state on the communist island.
The White House called the prison term "another injustice" for Gross and said he had already spent too long in jail.
Judy Gross had already made a separate plea to President Raul Castro for the immediate release of her husband on humanitarian grounds.
She wrote a personal letter to Mr Castro a few weeks ago arguing that Gross's daughter and stepmother are both battling cancer in the US.
She said her husband suffers from gout, ulcers and has developed arthritis in prison.
The US has previously said there can be no further easing of relations between the two countries until Gross is released.
The BBC's Michael Voss in Havana says the result of the appeal should give a strong indication of whether the Cuban authorities are serious about improving relations with the United States.