Venezuela's Chavez undergoes chemotherapy in Cuba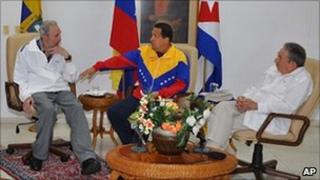 Venezuelan President Hugo Chavez says he has completed the first course of chemotherapy in Cuba.
Mr Chavez said he was now preparing for the second of various phases of the treatment.
He was previously in Cuba in June, where he had a tumour removed.
Before returning to the island for the chemotherapy on Saturday, he delegated some of his presidential powers to his ministers.
That was the first such move from the Venezuelan president since he took office 12 years ago.
But he has resisted opposition calls to hand over all powers during his absence.
'Bombardment'
In a phone interview broadcast live on Venezuelan state television, Mr Chavez vowed to win the fight against his cancer.
"This first cycle has been completed successfully," he said.
"There are various cycles in this battle to finally defeat and eliminate any risk of the presence of malignant cells in this body, which is going to turn 57 years old," said Mr Chavez, referring to his birthday next week.
He has not given precise details of where the tumour was found, only that he was operated on in the pelvic region.
He compared the treatment to "a bombardment against the illness".
They were his first televised remarks since leaving for Cuba on Saturday.
During the interview, he also mentioned next-year's presidential election.
Mr Chavez said he was confident of winning a fourth term in power.
"I will live, I promise you. And we are headed for the great victory of 2012," he said.
During his 12 years in power, Mr Chavez has built up deep support among the poor by spending on social programmes.
But there are growing problems, including high inflation, frequent electricity shortages and a lack of affordable housing.