Mexico jails US-born teenager for drug murders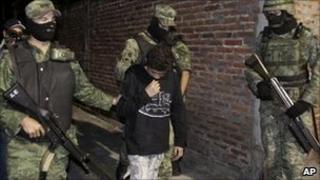 A Mexican judge has sentenced a US-born teenager to three years in prison for four murders, which he said he carried out on the orders of a drug gang.
Edgar Jimenez Lugo, 14 at the time of the killings, said he was under the influence of drugs and threatened by gang leaders, according to officials.
The sentence was the maximum allowed for a juvenile in the state of Morelos, where he was tried.
Jimenez was born in California, but has spent most of his life in Mexico.
The juvenile court in Morelos found the teenager guilty of killing four people, whose mutilated bodies were founding hanging from a bridge in Cuernavaca in 2010.
A court spokesman said Jimenez's three-year sentence was effective from 2 January 2010. He will be kept in a juvenile facility.
Jimenez, nicknamed El Ponchis, was arrested by the Mexican army last December. He was trying to catch a plane from Cuernavaca with two of his sisters to get back to San Diego, where his Mexican mother lives.
Intimidation
Officials say the boy confessed to working for the South Pacific drug cartel in Morelos state.
He told them he had been abducted and given drugs, and then ordered to carry out the killings.
At the time of his arrest, the Reforma newspaper quoted Edgar Jimenez as saying: "I felt bad doing it. I was forced to do it. They said they would kill me if I didn't do it.
"I only beheaded them, but never hung [bodies] from bridges, never."
Hanging bodies from bridges at busy intersections is a practice among Mexican cartels as a way to intimidate rivals.
Some 40,000 people have died in drug-related violence since President Felipe Calderon began deploying troops to fight the cartels in late 2006.