Mexico: Missing journalist Yolanda Ordaz found killed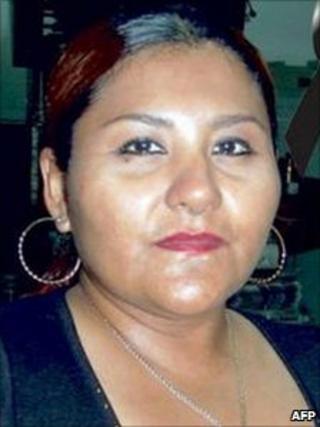 The body of a Mexican journalist who worked for the Notiver newspaper has been found dumped outside the offices of another newspaper in Veracruz state.
Crime reporter Yolanda Ordaz de la Cruz had been missing since Sunday night.
Officials said organised crime was suspected in the murder of Ms Ordaz, who was found with her throat cut.
Last month, columnist Miguel Angel Lopez Velasco, who wrote about politics and crime for Notiver, was killed in his house in the port city of Veracruz.
His wife and son were also killed in the attack.
Ms Ordaz had been reported missing at the weekend. Her body was found on Tuesday outside the offices of another newspaper in Boca del Rio, a city next to the port of Veracruz.
Authorities are looking at links between her murder and those of Mr Lopez Velasco and his family.
The attorney general of Veracruz state, Reynaldo Escobar, said that "everything pointed to" organised crime being behind the killing of Ms Ordaz.
However, he denied that she had been killed because of her work.
The US-based Committee to Protect Journalists says that 15 reporters have been killed in Mexico since 2010. Four of these murders have been confirmed as relating to the journalists' work.